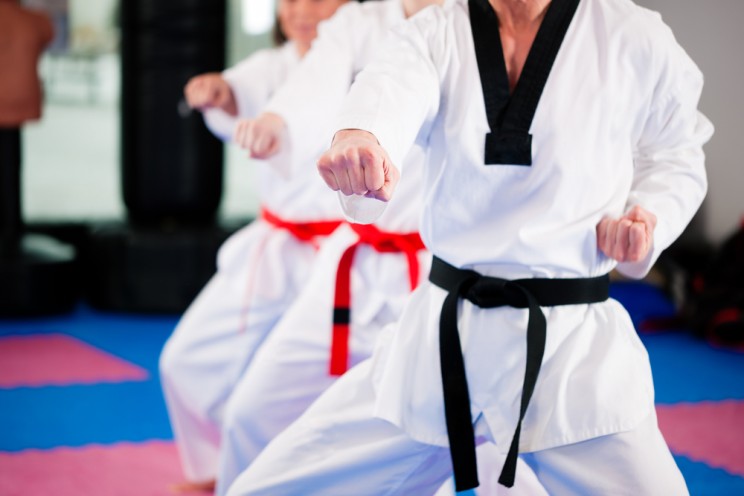 Bristol's premier school teaching classes for recreation, fitness, self-defence and sport.
Bristol Taekwondo School also known as Jin Moo Kwan which translates as True Martial Arts School has classes in Bristol with connected schools in Chippenham, Preston and looking to open a new branch in Portishead in the near future. Bristol Taekwondo School the regions top school catering for adults, children 7 years and over plus whole families, helping you to build confidence, improve flexibility, participate in an activity to become fitter, increase your energy levels, loose weight, and have fun, as well as making new friends. This will give you a better feeling of well being and conducive to your health.
The worlds most popular Martial Art with the regions top school.
Taekwondo is built upon 5 tenets that are core values of behaviour and attitude which serve as fundamental guides for all Taekwondo practitioners.
1. Etiquette
2. Modesty
3. Perseverance
4. Self-Control
5. Indomitable Spirit
Making the right decision
We believe that choosing our school for you or your child's training is the right decision, our instructors have a wealth of knowledge and experience to help you or your child in your/their Martial Arts journey.
Why choose Bristol Taekwondo School
Bristol Taekwondo School has a very long history in the region and was founded by Master Chris Davies 8th Dan who has now been joined by Master Lau from Hong Kong opening a Chippenham school. Under Master Davies, Master Lau and our team of instructors you can be sure you are in safe and competent hands. Master Davies has over 40 years experience in Taekwondo and is one of the highest ranked masters in the country, he also travels regularly to Korea for meetings and training with senior Masters at the World Taekwondo HQ in Korea (Kukkiwon), being appointed to the Kukkiwon Co-operation Committee and as a Kukkiwon Advisory Board Member to the UK.
Our team of instructors have all taken the National Governing Body instructors course and have the relevant insurance policies, qualifications and taken some required Sports Coach UK courses for safeguarding children.
Affiliation
The school is affiliated to the 'UK Taekwondo Development Council' which has clubs all over the country plus a large sister body in Ireland, giving all members a large community for training, resources, education and recognition. In turn the UKTDC is affiliated to the umbrella National Governing Body the 'British Taekwondo Council' which is recognised by the Sports Council as the only Governing Body for Taekwondo in the United Kingdom.
Safe and friendly
To add to this Bristol Taekwondo School prides itself on being a friendly family orientated school looking to provide a safe and enjoyable training environment suitable for everyone.
If you want to try a class completely free then call or email to book a trial lesson with no obligation. If you decide to join you will find that our prices are some of the cheapest around. Here at our school you will get top quality tuition and training at a fraction of the cost other schools charge.